Schenelle Dsouza
The global fragrance industry, like many others, has seen quite a boom post the pandemic, with a host of new fragrance launches. The obvious designer brands continue to rule the market, from your Dolce & Gabbana Dolce Lily Eau de Toilette to your Chanel No 1. And while we gush over their extravagant signature scents, we cannot help but notice the rise of the Indian perfume industry. Not constantly under the spotlight, Indian-made perfumes have created a niche for themselves in the perfume industry. 
The said homegrown brands have been essential players in the Indian perfume market for the longest time, with a selective audience that appears to be slowly expanding. This slow-yet-steady progress can again be attributed to the pandemic, where consumers no longer shy away from local homegrown brands. Thanks to social media and the expansive availability of the internet, homegrown perfumer brands have presented themselves at the forefront of Indian fragrances, that carry with them a piece of India. So what is it that led to the boom of the Indian perfume industry? And how do consumers play a part in promoting these? 
To know more about the industry and its recent boom,
LuxeBook
spoke to leaders, Dimple Fouzdar, Founder – Maison De Fouzdar, Sejal Kapashi, CMO – Embark Perfumes, and Astha Suri, Founder – Naso Profumi. 
Perfume industry in India 
According to Astha Suri, the Indian perfume industry is a hidden gem waiting to be discovered. This industry seldom receives the same recognition that a global designer brand gets. This was mostly attributed to the harsh belief that India made equals substandard quality, which stands for pretty much any India made product. "People always equated an Indian product to be of substandard quality, which is why Indian consumers' only option for a good perfume was considered to be an imported one," says Sejal Kapashi. 
Dimple Fouzdar on the other hand believed that while Indian brands did have a spot in the perfumer industry, it was a rather scarce one. "India has made a name for itself; it has made some inroads into the perfume industry in the recent years, but none in the niche perfumery segment," Fouzdar added. 
But soon enough something changed; with the dawn of the Covid pandemic, the theory of now or never inspired consumers to become more forthcoming to the wonders available within our own borders. From fashion labels to beauty brands, homegrown became the new 'it' word. And just like that, the perfume industry in India also boomed. Social media and online shopping websites have also lent a hand, helping with product promotion and distribution. 
"The availability of fragrances that are developed and made in India are now very well appreciated and accepted by the local consumer," says Kapashi. "The product distribution – be it offline through department stores or online through various websites – has made accessibility very easy which has also been a huge shift."
Perfume making is one of the oldest practices in the country dating back to at least 6000 years. The earliest record of perfume making can be traced to the Brihat Samhita – a 6th-century encyclopaedia authored by astronomer and philosopher Varāhamihira. A practice so old, perfume making was an all-natural process in India, where expert perfumers would use spices, flowers and dried fruits to create natural oils which were then used as perfume.
Astha Suri believes that one of the biggest reasons why perfume making in India has lost its face over the years is due to the lack of recognition and consideration for the hands behind the craft. She claims that "…a generational impression exists about young workers not joining this industry. And this is what has led to the perfume-making industry becoming side-lined in India."
Sejal Kapashi on the other hand believes that while the craft is prevalent in the country, the process has changed completely thanks to the embedding of technology into traditional practice. "The evolution of perfume-making is evident with the plethora of manufacturers and brands currently available in the country.  We have made in India products that traverse from the mass brands available at chemists and general stores to niche fragrances available online."
With perfume-making being considered an Indian craft, it was still a challenge for brands to create a special space for themselves in the perfume industry, and so they found themselves working twice as hard. 
Naso Profumi 
Artisanal perfumery Naso is best known for its urbanised selection of traditional attar. Regarded as a niche label in the green perfumery industry, Astha Suri tells us that the idea for Naso came to her one monsoon evening in her apartment. "It was a monsoon evening in my apartment in Bombay, I was penning down ingredients with healing properties and recognised the gem of ingredients I had in front on me. Having learnt to cook during my last year at University, I was keen on mixing flavours from spices and herbs to create unique textures and flavours. And that was where I believe I began to think about the juxtaposing flavours for a fragrance back then."
Interestingly, Naso Profumi despite being a standalone brand, has roots tracing back to 1852. The mother company as Suri puts it, was a vision created by her great grandfather right after the partition in India. "Back in the day we traded in India and in the gulf and years from then to now, we have Naso being born from the same, simplistic philosophies of home-grown and handheld, but contemporaries for the global audience which I, the fourth generation feels privileged enough to take it forward."
Despite being a fairly new player in the perfume market, Naso Profumi has created a niche for itself as a fragrance that defines India. Suri believes it is the Indianness of the aromas that have garnered a favouring audience. But like any business, the brand too had its share of ups and downs.
Immediately after its launch, a nationwide lockdown rendered the brand handicapped with a massive increase in logistical prices. "We struggled to suffice cost with marking competitive prices in the market to give our audience the most affordable luxury possible," Suri adds. "Giving birth to a brand in a country like India, where the value of indigenous artisans and concepts was just about starting to build was both a challenge and a luxury in disguise. Forming as the pioneers of green perfume making we still had to meet commercial standards to match our targets and produce sales."
Overcoming its initial struggles, the brand made its mark and is today recognised as the luxury green perfumer of India. It has a youthful approach to extenuate the rich set of authentic ingredients, using pure extracts from herbs and spices in the country. These are then combined with fragrant floral oils which are transported from Northern Europe, Egypt and Indonesia. "What defines Naso as a brand is the fragrance notes that resonate with our taste and sense, which are tamed to adhere to a modern mood palate," says Suri.
Maison de Fouzdar  
A brand that defines luxury perfumes made in India, Maison de Fouzdar specialises in exotic
oud
fragrances. The brand has one of the largest clientele, both in the country and internationally. According to  Fouzdar, that brand was launched to be a global one. 
"Growing up, I travelled a lot to distant countries and was always enthralled by the fragrances every country had to offer. My parents always collected perfumes from different parts of the world, and that drew me to the magic of perfumes. And so, Maison De Fouzdar was started with the intention of going global."
Fouzdar claims that while the Indian market displays several, quality made in India perfumes, these seldom make it to the international markets. Maison de Fouzdar, on the other hand, is a niche brand that offers quality in terms of luxury, right from the packaging to the fragrance. Specialising in aromatic oud, the brand uses the highest concentration in its products, 35 – 48 per cent to be exact. These, according to Fouzdar, are all naturally derived juices that are not harsh on the skin at all. The striking glass packaging only adds to the extravagance of the brand, giving it a minimalistic, luxurious appearance. 
Catering to the Indian consumers was part of the challenge for Maison de Fouzdar. "We conducted extensive research which was based on the weather conditions in India, because India has a hot and humid climate, which means that no fragrance will ever last long enough," says Fouzdar. But that was not the only problem for Fouzdar. India is a price sensitive market and educating people about the quality and value of the ingredients used was an important challenge. Despite all this, Maison de Fouzdar is among the leads in perfume making in the country. Within 10 months of its launch, Maison De Fouzdar was already in 10 high-end stores. "We at Maison De Fouzdar, give an experience of luxury in a bottle not only to those who understand perfumery but also to those who we know will be replacing their designer perfumes with our blends and get addicted to them."
Embark Perfumes  
Embark Perfumes identifies itself as a brand that specialises is quality that is affordable at the same time. "We truly believe that one doesn't need to spend an astronomical amount to get a premium quality product," Sejal Kapashi adds. "When we conducted our research, we saw that the Indian consumers are well aware of the trends in the fashion and beauty industries, which includes fragrance. And the Indian consumers often demand a good quality product that is also affordable at the same time. And that led to the launch of Embark."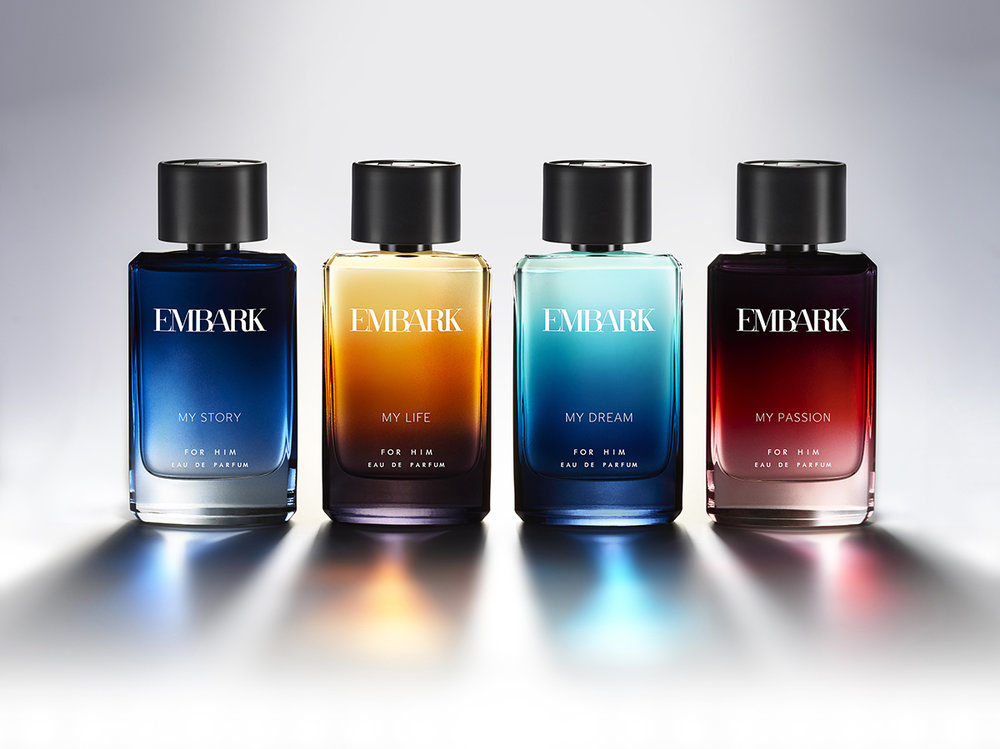 Among Embark's many distinguishers, the brand is known to use quality essential oils which ensure that the fragrances are long-lasting. One aspect that the brand truly takes pride in is that is it completely India made, right from the ingredients to the packaging.  
 You may also like: