Prayag Acharya
As suggested by John Stoddard Cancer Centre, sunscreen is the most important product of all our beauty/skincare routines. According to their study, sunscreens not only prevent our skin from ageing prematurely but also controls skin discolouration and brown spots.
Sunblocks are a must-have summer item. And here are our top luxury picks recommended by celebrities who know what ingredients to look for when picking out the perfect sunscreen.
1. Kourtney Kardashian, Zac Efron: EltaMD
Recommended by Kourtney Kardashian and Zac Efron, this sunscreen's ingredients include transparent zinc oxide, which POOSH confirms is an indicator that the sunscreen is mineral-based and natural. It also has Hyaluronic acid, which is a key anti-ageing ingredient as specified by Kourtney.
Supermodel Sofia Richie vouches for the glowstick sunscreen by Supergoop. As per Supergoop's website and Richie, it is a hydrating, glow-boosting sunscreen that leaves behind no oily residue.
Supermodel Ashley Graham uses the Chrono age white anti-ageing soothing sunscreen. She says it gives her the ultimate glow. The brand website mentions that the plant-based emollients present in the product repair and calm the skin.
To protect her dusky tanned complexion, Markle uses the Nivea protect and hydrate SPF 30 spray-on sunscreen. Not only does this product protect the skin from sunburns and allergy risks, but it is also formulated in a way that doesn't harm the corals.
5. Drew Barrymore: Clinique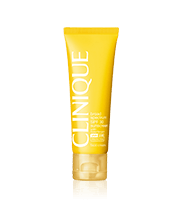 The acclaimed actor loves sharing beauty tips on Instagram. On a post from her vacation, she recommended the Clinique broad spectrum SPF 45 targeted protection stick. She wrote, "I break out from oil, so I can't wear most. This one is very anti-acne and very gentle."
6. Michelle Obama: Coola
Facialist Jennifer Brodeur, whose loyal clients include the likes of Michelle Obama and Oprah Winfrey, recommends this sunscreen. The Full spectrum 360 sun silk drops organic face sunscreen SPF 30″ by Coola protects your skin complexion, both, indoors and outdoors (as mentioned on their website).