Sanjana Virwani
Looking for something to occupy your days during self-isolation? A number of celebrities' social media accounts are flooded with baked goods, including Alia Bhatt's. The Gully Boy actress shared a photo of her banana bread on her Instagram account.
If you want to give the baking trend a try, follow these five recipes by celebrity chefs.
1. Ranveer Brar's Eggless Banana cake
Got some overripe bananas in your kitchen? Grab them and enjoy this healthier version of banana bread!
Ingredients :
1 cup wheat flour
3/4 cup powdered oats
1/4 cup chopped nuts (any preferred nuts)
1/4 teaspoon Cinnamon Powder
1/2 teaspoon baking soda
1 1/2 teaspoon baking powder
3-4 overripe bananas
1/2 cup brown sugar
2 tablespoon flaxseed powder
1 teaspoon vanilla extract
1/2 cup oil
A pinch of salt
Process :
Pre-heat oven to 180 degrees C
Sift the flour, oats, salt, baking powder, baking soda and cinnamon powder in a bowl.
In another bowl, mash bananas. Add in the oil, flaxseed powder, vanilla extract and sugar. Beat well.
Mix both wet and dry ingredients in one bowl and add in the chopped nuts.
Finally, pour the mixture into a greased baking pan and put it in the oven for 45-50 mins.
2. Betty Crocker's Key Lime Pie
Craving a little citrus? This dessert is for you!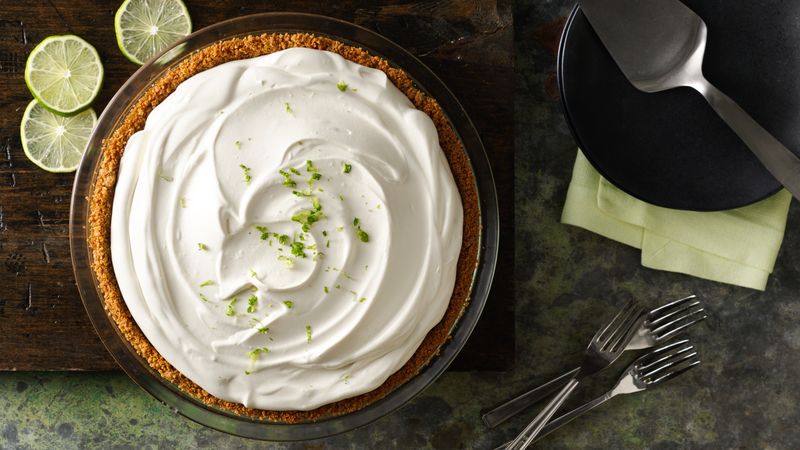 Ingredients:
1 1/2 cups of crushed graham crackers/any plain crackers
1/3 cup of butter
3 tablespoons of sugar
1 can condensed milk
1/2 cup key lime juice
1 (8 oz) of whipped topping
Method: 
Heat oven to 350 degrees C
In a bowl, mix graham cracker crumbs, butter and sugar. Press the mixture down and on the sides of the pie plate and bake for 8-10 mins until golden brown.
In another bowl, mix the milk and lime juice until smooth and thick. Add the whipped topping and fold it in.
Finally, pour the creamy mixture in the pie plate and refrigerate.
Ta-da! Enjoy a refreshing pie!
3. Sanjeev Kapoor's vanilla sponge cake
Preheat oven at 180 degrees C
Method and Ingredients:
150 g soft butter
1 cup caster sugar
Beat well till creamy
Add:
1 teaspoon vanilla extract.
3 eggs ONE BY ONE, mix after each egg.


Add:


1 cup of sifted flour.
1 teaspoon baking powder.
Fold the mixture with a spatula.
Once the mixture is creamy, add 2 tablespoons of milk.
Mix well.
Pour mixture into a greased baking pan.
Bake in the oven for 35-40 minutes.
Enjoy your sponge cake!
4. Mary Berry's classic scones   
Ingredients:
225 g of flour
1 tsp baking powder
50 g butter
25 g caster sugar
1 large egg
125ml Milk
Method: 
Preheat oven to 220 degrees C
(Dry ingredients) Grab a bowl and add flour, baking powder, butter. Mix well and stir in the sugar.
(Wet ingredients) Measure milk in a measuring cup, add the egg and mix well.
Pour in most of the wet mixture with the dry ingredients and mix well to make a soft dough. Around a tablespoon of the wet mixture should be left in the cup (to glaze the scones before baking).
Place the soft dough on a lightly floured surface, rolling it out to 1/2 inch thickness and cut into small rounds (3 inches recommended).
Place the nicely cut dough onto a baking tray lined with a baking sheet, brush the tops with the remaining egg and milk mixture.
Bake in the oven for 10 minutes
Finally, take them out and let them cool down.
Serve with your preferred toppings and enjoy your scones!
5. Gordon Ramsay Signature Brownie 

Method:


115 g of butter
300 g caster sugar
Mix together
Add 225 g of melted dark chocolate
Mix again
Add a pinch of salt
1 teaspoon vanilla extract
75 g cocoa powder
75 g of plain flour
Mix till smooth
Add 5 eggs
Mix until fudgy
Add milk if needed to be thinned out
250 g of dried cherries, 100 g popping candy
Pour onto a greased baking tin and place in the oven for 45-50 minutes.
Optional: decorate with sprinkles
You are done! Easy and fun to make!
These baking recipes are simple yet delicious, perfect for a productive day in quarantine!