Schenelle Dsouza 
A celebration of one of the most enjoyed spirits, Vodka Day calls for a celebration of quality vodka. Celebrity-owned liquor brands aren't a new trend. For a few years now, singers actors and even designers have stepped out of their creative fields to experiment with the liquor industry, with some hits and maybe a few misses. And while tequila and whisky are among the more popular creations, celebrity owner vodkas have also managed to stand out in recent times. These include Kate Hudson's King St. Vodka, Dan Aykroyd's Crystal Head Vodka and Jason Derulo's Bedlam Vodka among others. On this National Vodka Day, take a look at some of the most well-received celebrity-owned vodkas below.
Bedlam Vodka – Jason Derulo
A rather affordable offering, Bedlam has quite the historic tale behind its creation. The ancestors of Brandon Evans, one of the company's founders, distilled the vodka from long-grain white rice during the potato famine (1845 to 1849) in Bedlam, Ireland. Wanting to share this unique vodka, the company partnered with popular singer/dancer Jason Derulo in early 2021. The American  variant is made from American-grown, long-grain white rice. One of the reasons Bedlam has such a huge following in the states is that unlike traditional vodka, Bedlam Vodka is light on the nose and palate. It is smooth and full of flavours, and lacks the burn of traditionally made vodkas.
Born and Bred – Channing Tatum
After claiming that he failed to find a "good American vodka", actor Channing Tatum partnered up with Idaho's Grand Teton Distillery for his own Born and Bred Vodka. Made from the very best Idaho potatoes, Born and Bred is distilled about twenty-times and prepared in small batches using fresh glacier water— making it American vodka, through and through. The flavour palate on this potato drink, as claimed by Tatum himself, has "a smooth taste to it, like a cool feeling in your mouth, where the aftertaste doesn't burn."
Crystal Head Vodka — Dan Aykroyd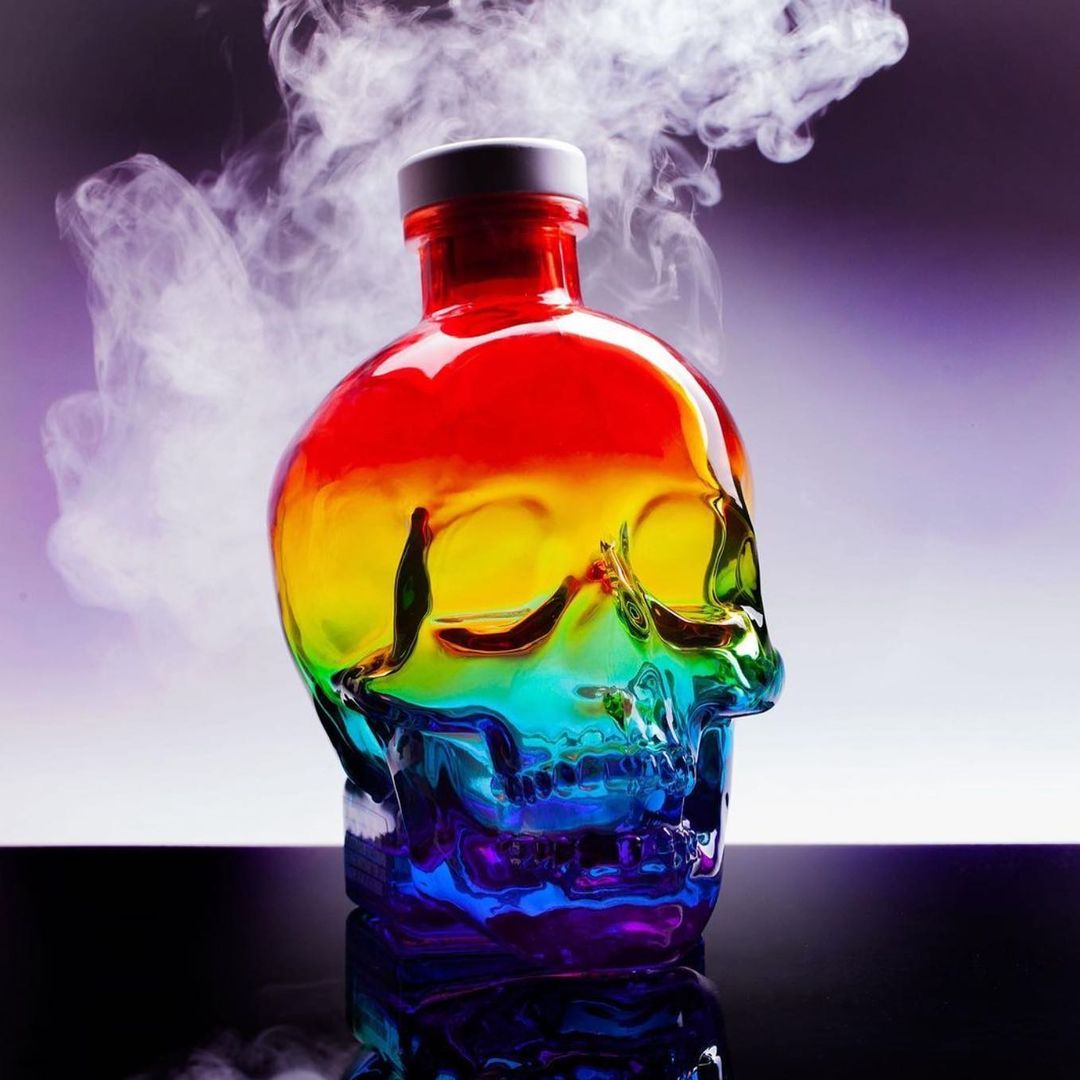 Hands down of the best and most popular celebrity owner spirits ever, Dan Aykroyd's Crystal Head Vodka  was launched back in 2008. The Canadian actor and comedian called it a premium "clean" vodka that is locally sourced from Canadian corn, distilled four times before being filtered another seven times through Herkimer diamonds. Crystal Head Vodka is produced from "peaches and cream" sweet corn blended with water from St. John's, Newfoundland. The resulting liquor has a smooth finish with a hint of vanilla. The brand's Pride Bottle, released in May 2020 in support of the LGBTQ+ Community. Whil it isn't available for sale on the official website, this striking bottle is available with limited sellers.
King St. Vodka – Kate Hudson
If you look up celebrity vodkas, Kate Hudson's King St. Vodka might be the first to pop up, and with good reason. Named after her beloved NYC apartment, Hudson's vodka brand is a clean, quality spirit that is prepared using GMO-free corn and is handcrafted and distilled in Santa Barbara. As someone who loves dirty martinis, Hudson, realised that her home bar had not one vodka that was founded by a women. And so, wanting to add some female leadership to the spirits industry –the vodka industry in particular, Hudson launched the King St. Vodka in 2019. One of the reasons her vodka stands out from other brands is because it is distilled seven times in small batches in Santa Barbara, is gluten-free, and uses alkaline water.
Roberto Cavalli Vodka – Roberto Cavalli
Roberto Cavalli already made his debut into the hospitality industry with his Cavalli Cafe in Jeddah, Saudi Arabia and Saint-Tropez in France. And now the master of exotic prints expanded his design expertise into the world of spirits. The fashion designer's premium vodka is the first of its kind to be produced entirely in Italy. The vodka is inspired by and dedicated to femininity, an eternal muse for Cavalli. It has a unique flavour, with very clean with neutral aromas, with delicate hints of sweet pudding and spicy notes, followed by a long, creamy mineral finish.
You may also like: