Schenelle Dsouza 
A prominent name in the luxury design space, Italian meta-luxury brand Visionnaire is broadening its horizons with its very first hospitality venture — the Visionnaire Bistrot. A glamorous dining space in the heart of Milan, the bistrot combines the artistic persona of Visionnaire with the very best of Italian hospitality.
Ideal location 
As for the location of this chic new bistrot, Visionnaire could not have picked a more perfect location — the Milan headquarters. Visionnaire choose the Milan location for its headquarters in 2008; back then, the brand envisioned it to be a space for artistic experimentation, a concept that is shared by the bistrot today.
Calling it a "project of love and discernment in Italian gastronomic culture", Visionnaire aims to create a culinary space which, like the brand, is defined by creative experimentation. Taking local ingredients and marrying them with new, enhanced flavours, the bistrot hopes to create a cuisine that can be enjoyed especially by those with refined tastes. Not to mention the luxurious ambience which is also driven by creative taste.
The general idea behind the location, therefore, is to present people with a creative culinary experience within one of the most creative spaces in Milan.
Compelling flavours
The flavours presented at the bistrot have an exceptional force behind them, the renowned Chef Filippo Gozzoli along with the gifted kitchen chef Luca La Peccerella. The duo work to create what can only be defined as a work of art. Every dish presented at the bistrot is a product of meticulous research on the distinct colours and forms of different foods.
Although a predominantly plant-based restaurant, the bistrot does feature a number of exciting lunch options which include signature plates like beef tartare, fish broth tube, beetroot club sandwich, and the Pappa al Pomodoro which is a traditional Tuscan bread soup made with tomatoes.
While the day menu features classic signature dishes, the dinner menu leans towards aperitif specialities dominated by raw fish creations. These are ideally served with some very exclusive spirits including the French Champagne Label, Perrier Jouet.
Perrier Jouet
Marking its debut at the Visionnaire Bistrot, the Perrier Jouet champagne has its own dedicated space in the form of a lavish lounge. Here, guests and champagne connoisseurs can get an exclusive and immersive tasting experience while taking in the beauty of the French Maison.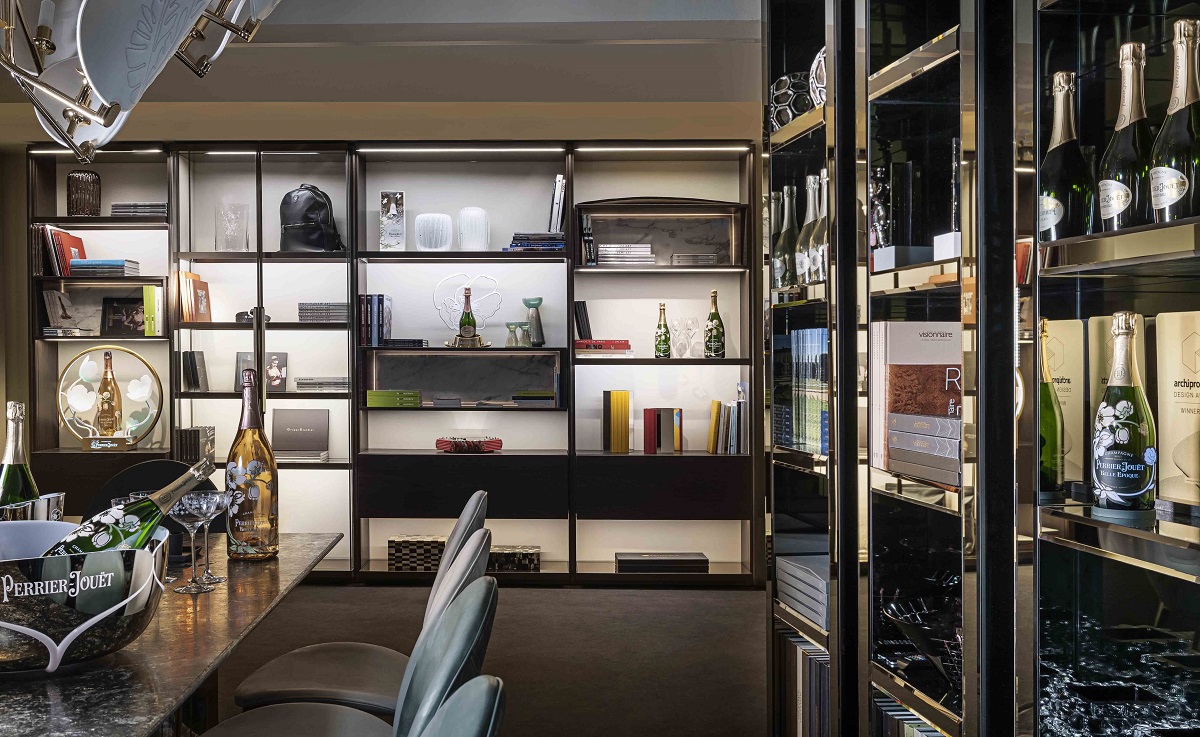 While the food menu is enthralling, the cocktail menu hardly falls short. In a unique tribute to the brand's many projects from around the world, the cocktail list features concoctions named after said projects. Pavone Sour and Lego Tonic are two such concoctions inspired by Visionnaire's Garden of Beauty and Lego capsule collection respectively.
You may also like: