Arushi Sakhuja 
Though not everyone's love language is gift-giving, when it comes to showing a little appreciation on February 14, tokens of affection are cherished.

This Valentine's Day, surprise your special someone with our curated 

collection of gifts, ranging from watches, gadgets, footwear, apparel, beauty

, jewellery

and fragrance. P.S they are b

est when accompanied by a romantic letter, cheesy greeting cards, or quality time.
For him
Wellbeing Nutrition 
The ultimate gift for the man who prioritises well-being over everything else. Wellbeing Nutrition's thoughtfully curated gift box for him has all that your man needs to stay healthy.  It comes up with modernly designed Nano oral strips, prebiotic, multivitamins, Vitamin D3 and 2-in-1 capsules to improve his immunity and
nutrition

kick instantly. This box will help him approach every day with zeal and zest.
Chateau Indage wines
Want to make your
Valentine

's

day

memorable? Gift your Partner luxury packed in a wine bottle! Made from the best quality grapes,

Chateau Indage wines

blend flawlessly with flavoured mixers to prepare and relish refreshing cocktails and sangrias to celebrate love.
Desk Organizer Furnmill 
For the man who works from home, this Valentine's Day make his desk more organised! Nothing gets better than a desk organizer from Furnmill for your work-from-home desk. Along with a heartfelt note, it truly can't get better.
Breakfast in Bed Hamper
Make your man's Valentine's Day morning super special with breakfast in bed! The Gourmet Box has curated a beautiful present for those who like to savour their start to the day. Good breakfast always starts your day off on a happy note and this hamper does just that. Make a beautiful breakfast tray for your loved one with the gourmet goodies in this hamper and start their day off with an amazing surprise.  Assorted Tea (Tea Bags)Instant flavoured Coffee, Flavored Granola, Flavored Pancake Mix, Fruit Preserve/Jam, Honey Twigs and Flavored Peanut Butter
Flower Hamper
Valentine's day gifts for him include a bouquet of flowers and a bottle of wine like this one from Interflora. You can never go wrong while wearing your heart on your sleeve, or with a little something that reminds you of love every day. Shop our picks of these tried-and-true gifts. Crafted to bring a sweet smile to their face, the thoughtful assortment of an English garden basket loaded with red roses, Jacob's Creek red wine and a pink heart mug is the ultimate expression of love. And a fitting gift to mark a love story that's one for the ages.
Hennessy XO Cognac
With seven tasting notes in one sip, Hennessy XO is the perfect gift for him. Expect sweet notes of candied fruit with an intense rising heat that slowly reveals the taste of eaux-de-vie, patiently aged in oak barrels. A peppery flavour mingles with a hint of chocolate, while the evanescent oak notes leave a long finish in their wake – your special one will remember the tantalising taste long after the final sip.
Polaroid Originals Polaroid Onestep+ White
Polaroid

If they love the idea of physical, instant photos, this camera lets them take snaps with two different lenses (standard and portrait). But if they have a pic on their phone they're dying to hang up, it also connects via Bluetooth and prints directly from the camera.
Montblanc Pen
When it comes to luxury pens Mont Blanc tops the charts. Give your loved one this Montblanc Meisterstuck Around the World in 80 Days ballpoint pen. Sleek in design and impressive in appeal, it's definitely a keepsake gift.
Customised Nikes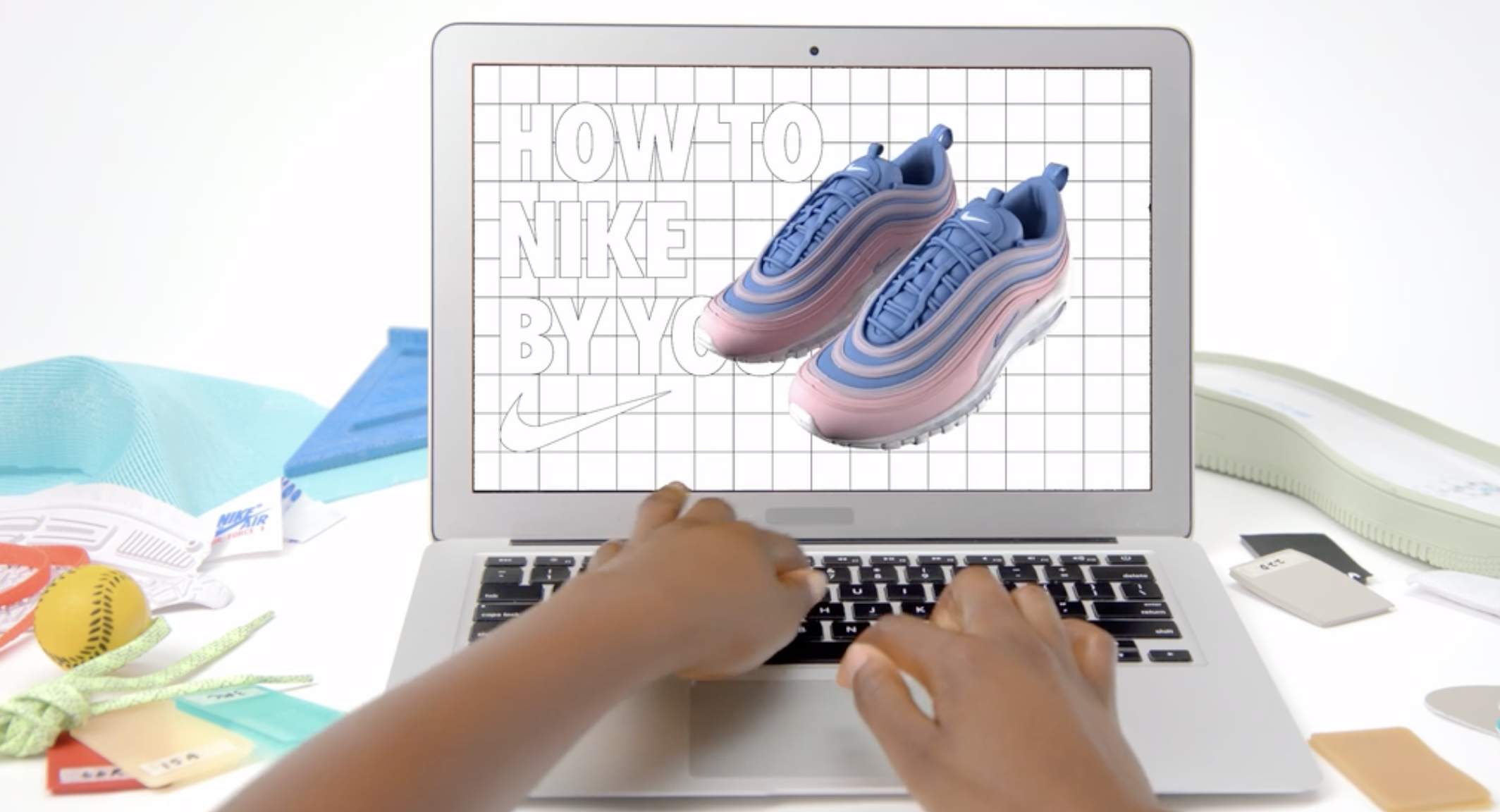 If you know their favourite colours, you can surprise them with their own Nikes this Valentine's Day. You can go all out with lots of colours or just do a few accents on a white shoe — the options seem limitless.
Seiko Presage Sharp Edged Series
The perfect gift for watch lovers, Seiko introduces into the Presage Sharp Edged Series two new creations whose black case and bracelet, combined with the stunning gradation dial, express Akebono, which in Japanese signifies the moment when the darkness of night gives way to dawn. Both creations are available as limited editions of 2,000 each. So make your special one feel extra loved.
For her 
Rosha Lamp
From home decor to everyday accessories, this season celebrate love with Rosha. The crystal lamps are battery-operated, USB-powered, and have a lit time of more than 12 hours. Easily rechargeable, the light source of the collection is LED and can be controlled by means of a feather-touch button.
La Prairie Platinum Rare Luxury Ritual
the very heart of the Platinum Rare Luxury Ritual, which includes five expertly developed products – from a precious elixir and rejuvenating night cream to a line-smoothing moisturiser – each taking your youth-enhancing routine to the next level.
Dyson AirwrapTM multi-styler
The best gift for your girl? Make every day a great hair day and what better than the Dyson Airwrap?  
The only styler to curl, shape and hide flyaways using the Coanda effect – with no extreme heat. So give your hair some extra care while looking great!
The Sweetest Strawberry Heart

Gift

 Box
A lovely surprise for someone who loves some juicy, fruity TLC, The Sweetest Strawberry Heart Gift Box is packed with our Strawberry Lip Butter, Strawberry Body Butter and Strawberry Hand Cream, guaranteed to offer head-to-toe love.
RK Jewellers Heart Ring
Woo your loved one with a priceless treasure. The RK Jewellers South Ex Part-2  collection offers a plethora of choices in a variety of shapes. And in case you steer clear of the classic diamond cuts, these are a refreshing change.
GK Hair Professionals
Give your hair a spectacular look with GK Hair products. The professional Keratin nourishing kit offers the best solution for your dry, frizzy, and rough hair. This love season, make your hair luxurious, gleaming and frizz-free with amazing kits by GK Hair Professional. 
Personalised Stole 
Go the extra mile and make it personal with Janavi India's Love Shawls. Being an
expression of love and warmth, get a bespoke one for your loved one.
From hand-embroidered names, initials or important dates, you can choose the best way to make this truly special. 
Swarovski Earrings
Nothing gets better than Swarovski and sparklers for Valentine's Day. These earrings are sure to become part of their everyday rotation and a jewellery box must have!
Royce Chocolates 
When it comes to true love, only the finest chocolate will do! For those who love cute gestures and sweet treats, Royce has something special. The perfect Valentine's Day platter bursting with seven of ROYCE's bestselling chocolates – the signature melt-in-your-mouth Nama Chocolate, sweet and salty Potatochip chocolate, crunchy Chocolate Wafers, the exquisite Prafeuille Chocolate, Pure Chocolate discs, Nutty Bar Chocolate and the creamy chocolate bar. Make V-day super special.
Kohinoor Jewellers
The perfect way to express your love literally. Kohinoor Jewellers Agra is bound to leave your better half awe-struck. Featuring striking rubies in classic dreamy designs, this necklace make for an appropriate gift for any woman and make for even more beautiful surprises.
L'ALINGI Satin Love Top-Handle Bag
Fill the air with romance with L'Alingi's exquisite clutch bags. The Love clutch bag is defined by a satin pouch that's encased within a heart of Swarovski crystals, and just like the Eternity iteration that inspired it, this style promises a swoon-worthy entrance.
Personalised wellness journal 
If they're fans of physical planners or keeping daily diaries, this hardcover journal is about to become their new favourite. You can pick from a range of vibrant bindings and customize the cover with a title, their name, and anything else you want from Patrika India.
Le Creuset 
For those who love to cook, they already appreciate Le Creuset pans. But the brand's heart-shaped offerings make the gift even more special.  Add an extra dash of love to cooking with Le Creuset's heart-shaped Dutch oven in pastel pink or vibrant red.
You may also like: